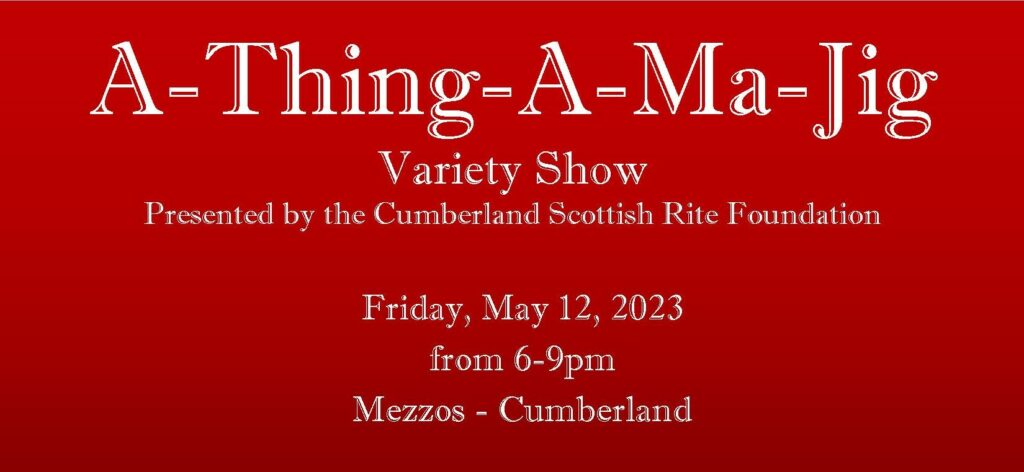 The Cumberland Scottish Rite Presents:
"A-Thing-A-Ma-Jig": A Showcase of Local Talent
We are excited to let you know that the 21st Annual A-Thing-A-Ma-Jig Variety Show will be presented at Mezzos in Cumberland on Friday, May 12, 2023 beginning at 6:00 pm.
This year's show will feature award-winning Bluegrass performer Loretta Hummel, Americana duo KerrKuhn, and the Magic of Joe Kennedy. The admission price of $10/person remains the same as in the past and attendees will now have the option to purchase food and drinks throughout the performance.
Since being established in 1997 by the Cumberland Scottish Rite in association with the League for Crippled Children (now the Children's League), Cumberland's RiteCare Early Childhood Language Disorders clinic has provided diagnostic evaluation and treatment of speech and langugate disorders free of charge to hundreds of children from Cumberland and the surrounding region.
Mezzos
114 S. Centre Street, Cumberland, MD
Friday, May 12, 2023
6:00 PM – Showtime
For more information, contact Robin Summerfield at 301-729-2491