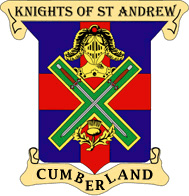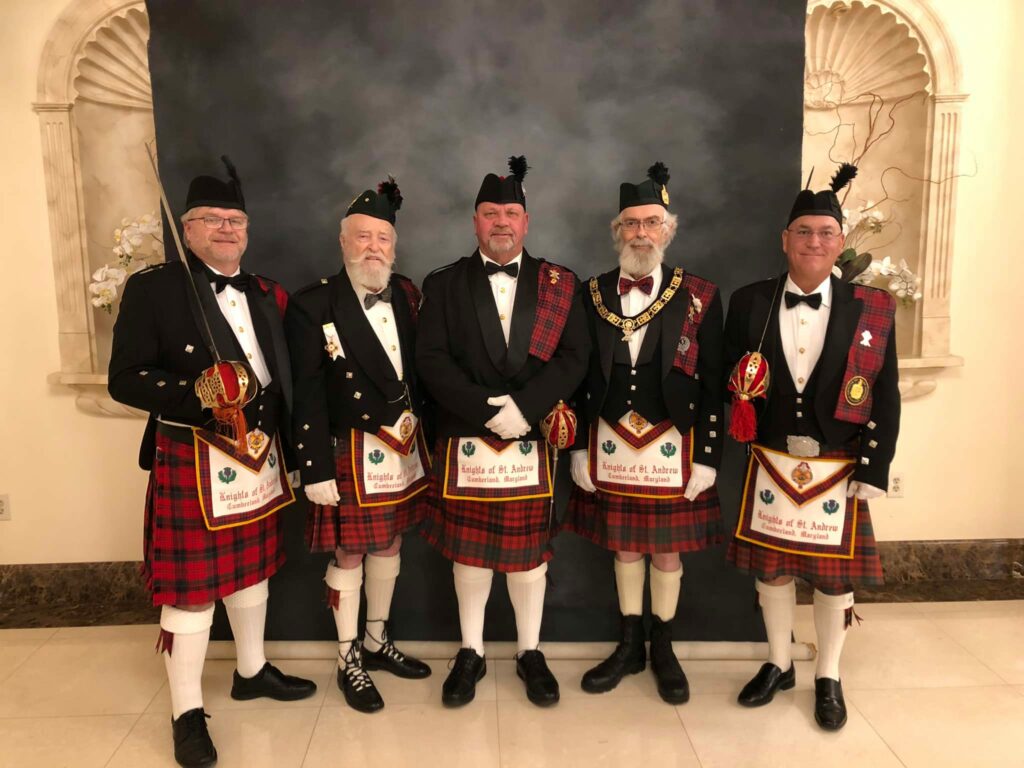 OFFICERS
Venerable Master – Dwight C. Metcalf
Knight Commander Emeritus – Samuel J. Lane
Senior Warden – Michael W. Kerns
Junior Warden – Mark E. Lathrop
Turcoplier Emeritus – Michael Kamauff
Senior Deacon – Brett T. J. Bean
Junior Deacon – Dylan M. Keister
Secretary-Treasurer – Michael W. McKay
Sentinel Emeritus – Aaron V. Lea
Tyler/Marshal – Mark T. Valentine
Our Members
The Knights of St. Andrew is made up of an elite unit of selected 32° Scottish Rite Freemasons.  Membership in the order is open to all 32° Masons who are members in good standing of the Cumberland Scottish Rite.  Members who have received the honor of the Knight Commander Court of Honor are Knights Emeritus.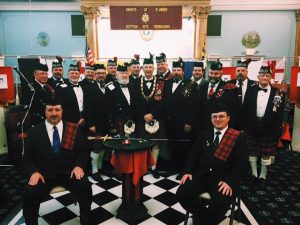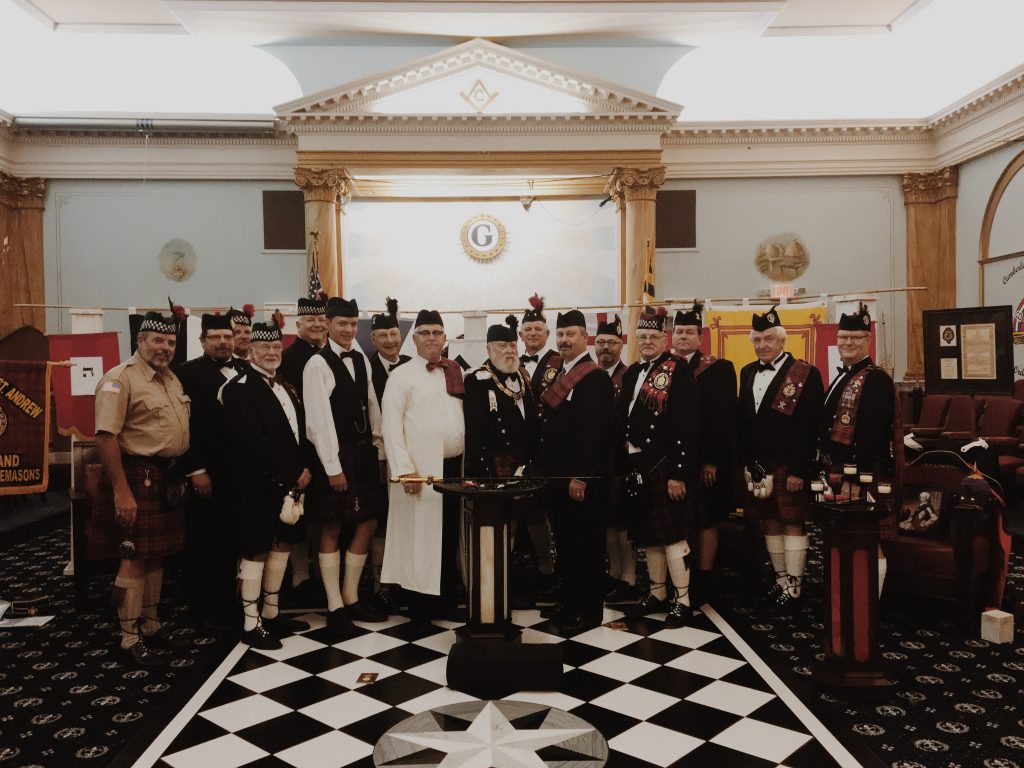 Our Mission
The Knights of St. Andrew exists as a service organization on behalf of all members of the Orient of Maryland.  They are under the immediate supervision of the Personal Representative and provide services where they are needed.  This includes, but is not limited to, aiding the Tyler, acting as greeters, escorting dignitaries and other special guests, serving as guides, providing arches of steel, assisting with Scottish Rite degree work, and presenting the colors.
Knights of St. Andrew also assist in the calling committees, participate in parades or civic activities, promote fundraising events, and aid in special events. Their flexibility and enthusiasm make the Knights of St. Andrew one of the Valley's most active and desirable organizations. It is an excellent way to nurture and develop future leaders as they learn their organizational and leadership skills, explore the inner structures of their Scottish Rite Centers, and thus gain a deeper admiration for our Order and Brethren who work in Freemasonry as a whole.
Our History
Tradition informs us that the medieval Order of the Knights of Saint Andrew was formed in 1314 by King Robert the Bruce of Scotland to honor sixty-three Knights who appeared at the Battle of Bannockburn as a mounted unit, quickly turning the tide and defeating the English.  The modern Order was fashioned on the noble example of those sixty-three Knights who came to the service of Scotland when she was in dire need.

Our Creed
I am known as one of Sixty-Three
Who became the kilted fleur-de-lis.
I am led to battle by Holy Light
And by de Bruce's decree, I am a Knight!
Our Motto
Nemo Me Impune Lacessit (No one provokes me with impunity)
Our Battle Cry
Beauseant!  Beauseant!  Beauseant! (Knowledge of the Good)
Past Venerable Masters
Dwight C. Metcalf – 2021
Daniel C. Stitt – 2020
Samuel J. Lane – 2019
Jason R. Landis – 2018
Raymond W. Ryan, III – 2017
Joseph Cushall – 2016
James Z. Bosley – 2015
Michael Kamauff – 2014
W.R. "Chip" Zimmer – 2013
George "Tim" Schupfer – 2012
Gary Freeman – 2011
Mark Weatherholt – 2010
Elmer "Bud" Miles – 2009
Gerald Vannienwenhove – 2008
Jamey Hill – 2007