The Maryland Masonic Child Identification Program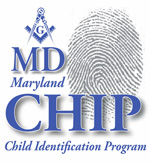 The Maryland Masonic Child ID Program (MD CHIP) has provided Maryland parents with an extra measure of security for years.  Our volunteers set up at events across the state on a year-round basis.
When a child participates in the program, all vital statistics are recorded.  The child is photographed and digital fingerprints are taken.  Additionally, the child is photographed and a video recording of the child speaking is made.  All of the above information is then recorded onto a CD.  A cheek swab of the child's DNA is collected painlessly.  Everything is then sealed in an envelope and given to the parent for safekeeping.  We retain none of the information.
A missing or abducted child is every parent's worst nightmare.  An MD CHIP identification kit provides all the information authorities need to find your child.  This service is provided free of charge by the Freemasons of Maryland.
To find an event near you or to request one in your community, please contact Western Maryland Program Coordinator Mike Kamauff at 301-697-4759.