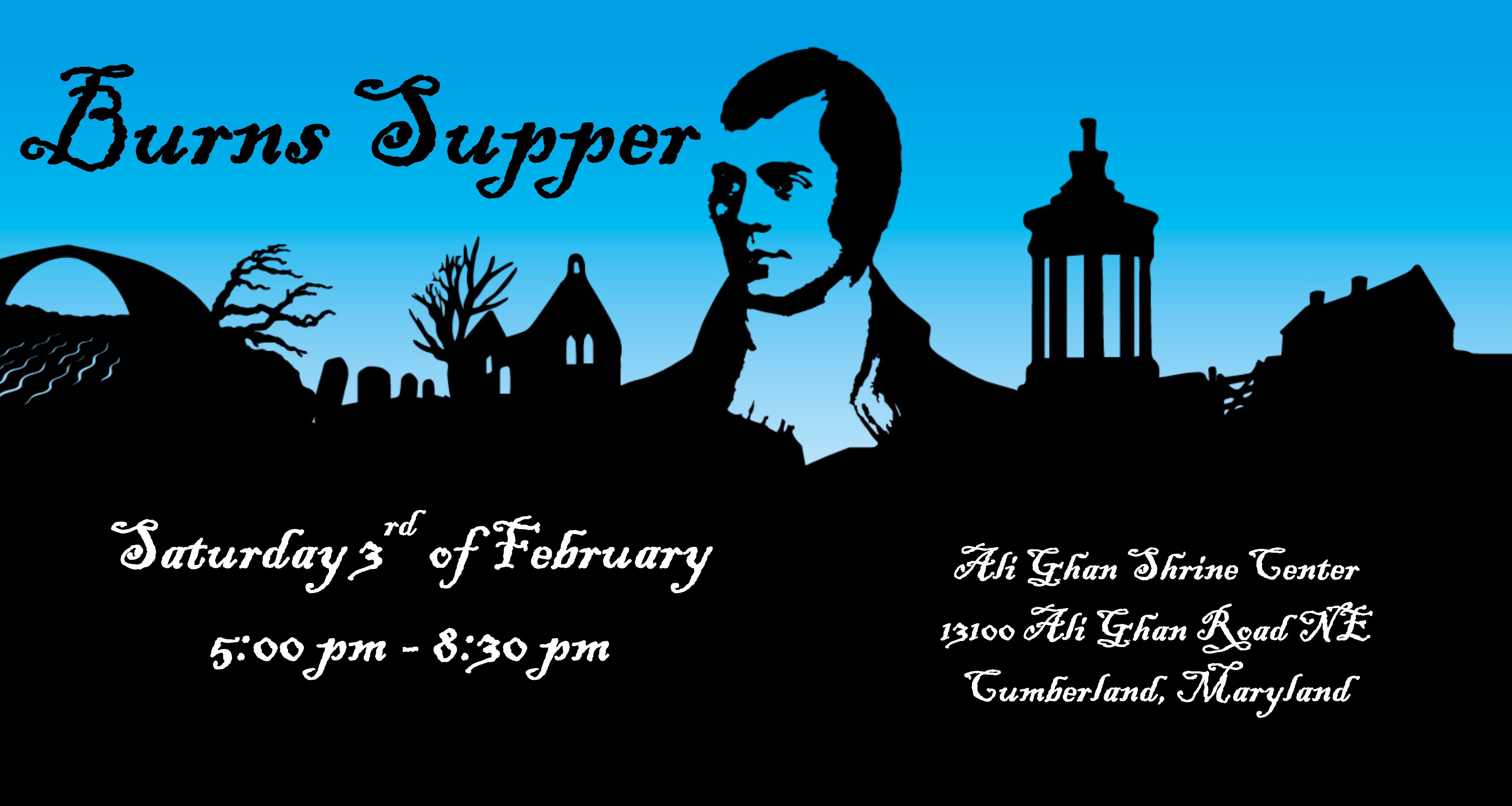 Join the Cumberland Knights of St. Andrew for our annual Burns Supper celebrating the life and poetry of Bro. Robert "Rabbie" Burns.
              The Cumberland Knights of St. Andrew will host their annual Burns Supper on Saturday, February 3, 2018, at the Ali Ghan Shrine Center in Cumberland.
This festive celebration will include a traditional Scottish meal and piping in the haggis, readings of Burns' poetry, and a toast to the immortal memory of Scotland's beloved son.  Musical entertainment will be provided by Scottish Folksinger Carl Peterson, who has become the most successful and busiest Scottish singer in North America, performing at numerous festivals and concerts and producing nearly thirty recordings.
Proceeds from the Burns Supper support the work of the Scottish Rite Speech and Language Disorders Clinic at the Children's League.  The Knights extend a warm welcome to our brethren from across the Orient of Maryland to join us for this evening of fun and fellowship for a great cause.  The Scottish Fare menu is listed below.
Appetizer: Haggis Phyllo, Scottish Egg/mustard sauce—Soup: Seafood Bisque in Bread Bowl — Vegetables: Rumple de Thumps (parsnips, turnips & potatoes combo) Glazed Carrots — Entrées: Cornish Hen on stuffing OR Shepherds Pie — Dessert: Scottish Bread Pudding with Praline Drizzle — Auld Man's Milk (egg nog), coffee, tea
Cash bar: Water of Life, Beer & mixed drinks