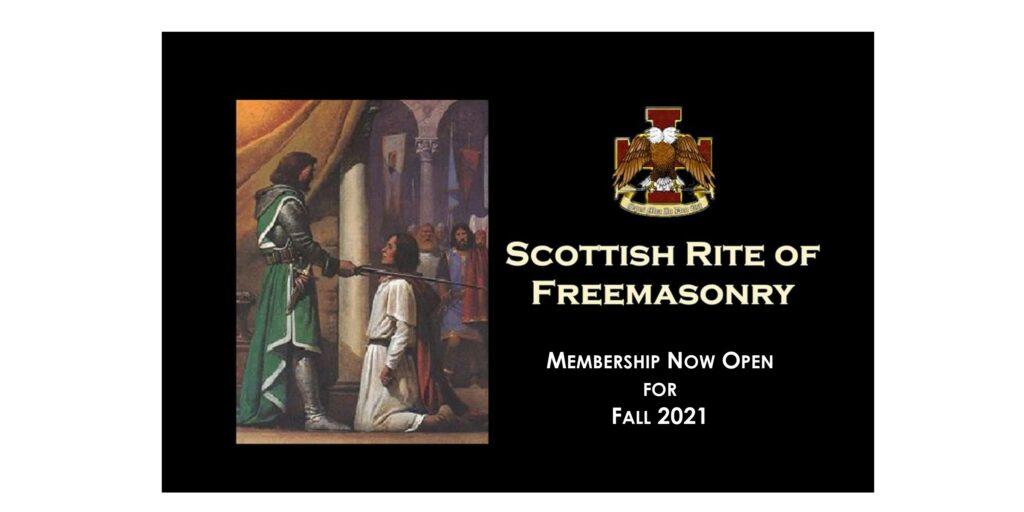 The Cumberland Scottish Rite of Freemasonry will hold its 178th Fall Reunion and Conferral of the High Degrees of Masonry on new members at the Cumberland Masonic Temple on Saturday, October 30, 2021. All Master Masons are invited to apply for membership.
7:30 AM Check-In (Light Refreshments)
8:30 AM Open Lodge of Perfection
9:00 AM Introduction to Scottish Rite Degrees
9:05 AM Conferral of 4th Degree – Secret Master
10:00 AM Conferral of 14th Degree – Perfect Elu
11:00 AM Conferral of 18th Degree – Knight Rose Croix
11:45 AM Conferral of 30th Degree – Knight of Kadosh
Class photo will be taken prior to lunch
12:45 PM 178th Fall Reunion Luncheon
1:45 PM Conferral of 32nd Degree – Master of the Royal Secret
2:30 PM Reset the Lodge and Dismissal
Download a Petition for Membership HERE and submit with your petition fee or pay your petition fee online below.
There is no charge for the Reunion Luncheon, but reservations are required by using the form below or by phone at 301-729-6778.
For more information or questions, contact our General Secretary at 301-729-6778.