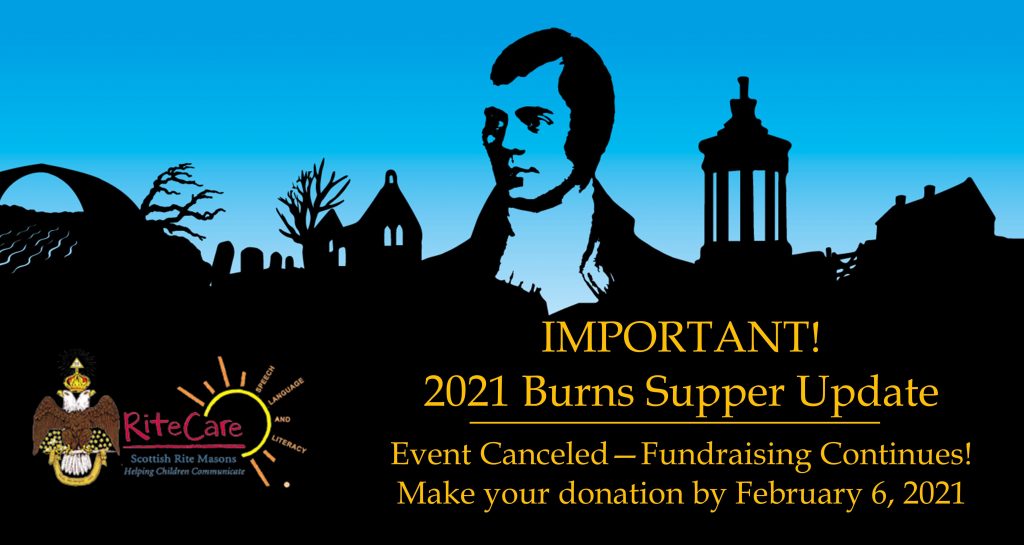 To protect the health and safety of our community in the midst of the current COVID-19 crisis, the Cumberland Knights of St. Andrew have made the difficult decision to cancel the 2021 Burns Supper scheduled for February 6th. Those who have purchased tickets to attend will receive a full refund.
We are grateful to the generous sponsors and patrons who have provided donations to support our efforts to raise funds for RiteCare whether or not the event was to be held. We will continue to accept donations as part of the 2021 Robert Burns RiteCare Campaign through February 6, 2021. 100% of the donations we receive will be distributed to The Children's League to support our RiteCare Clinics in Cumberland, Oakland, and Keyser.
Donations may be made online at the ticket link below or by mail to The Cumberland Scottish Rite Foundation, Inc., c/o Jerome Robinette, 73 Lavale Blvd, Lavale, MD 21502.
We appreciate the support we have received for our most significant annual event in support of RiteCare and we look forward to the time when we can all be together again.
Beau-Séant!